You can purchase Market Awareness custom challenge coins on this page.
---
We have set yearly goals of individual Market Awareness coin purchases and the progress of that initiative is depicted below:
We have raised
$2,750.00
of our goal.
TrainOurTroops provides U.S. veterans, and their spouses, with online advanced training solutions to give them a competitive advantage in the civilian marketplace to ignite their careers. We provide free online education in courses driven by the needs of organizations. We allow veterans to start brand new careers or simply add additional advanced skill sets to their existing resume of experience in order to become more valuable to potential employers.
Market Awareness is instrumental in TrainOurTroops achieving their yearly veteran training goals.
---
Market Awareness Challenge Coin
With your support of U.S. veteran scholarships, starting at $50, TrainOurTroops will supply you with a one-of-a-kind Market Awareness veteran scholarship challenge coin. The 3 inch heavy-duty aluminum coins are uniquely numbered and will last forever.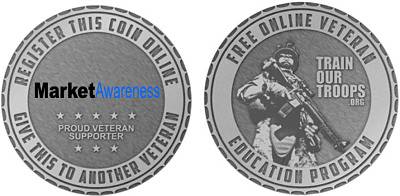 You then have the responsibility to register that coin on this website and give the coin to any veteran you think will benefit from our various trainings and certifications to make them more valuable in the civilian marketplace.
Each time you give your Market Awareness coin to another veteran, that new veteran enters the unique code into the challenge coin registration page on this site. You then get quarterly updates on the different veterans your specific coin has impacted and where it has been registered throughout the world - this allows you to realize the full impact of your support and just how many U.S. veterans you are truly impacting with your Market Awareness challenge coin.
---
Purchasing Market Awareness Challenge Coin(s)
Your coin(s) will be shipped to the address you provide, you'll register the coin(s) here on our website, and then pass your coin(s) on to a U.S. veteran whom you think could benefit from our advanced online training and certification courses.